Sophie Dreis, Photo credit: Linus Ricard
Sophie Dries talks about making collaborative buildings and objects in the challenging creative scene of Paris.

Sophie, what do you have in your table at the moment?
For my design line and collaborative projects with manufacturers, I am working on an up-cycling project of small home accessories in marble, a carpet line, and a lighting project with a glass master in Switzerland. I always have one foot in design and one in interior architecture. I just finished the interior of a 100 sqm apartment in a typical Haussmannian Paris building, designed two floors minimal house in the south of Paris which was a project from scratch and now Iı am starting a luxury residential apartment on two floors 450 sqm Avenue George V which is next to Champs-Élysées.
You have been involved in many different projects from architecture to interior/product design and art exhibitions. How do you connect your personal point of view and your own style in between these projects?
The most in important in each spatial project is the " Spirit of Place" in Latin "Genius Loci", so first thing is to go visit and understand where we are and what is this place meaning regarding its context, then who is going to interact there. When I design an apartment under wooden beams, I emphasize the countryside homely spirit, when I am in a modern building I play on the loft identity with minimal lines. I respect original moldings and wooden floors in Haussmann style apartments, for instance, arcades existed in the Istanbul shop before I came, I just played with the existing architecture language.
The scale is not an absolute definition and I don't believe in recent boundaries between architecture, interiors or object design. Less than 100 years ago Frank Lloyd Wright, Alvar Aalto, Le Corbusier were designing a collective building as well as the door handles or the carpets and curtains inside of it. Like in architecture, for me the authentic materials are essentials, then I work with traditional craftsman, and I try to twist their technics into a contemporary process. Like dying marble, turning wood in opposite direction, scratching ceramics... It is always an experiment, a journey where you are not sure when it is going to end.
How do you see the emerging creative scene in Paris? Are you influenced by this community or daily life in your city?
Paris is indeed a major influence in its diversity layers, extraordinary artefacts around us like architecture, art, fashion and gastronomy. My favourite era is Lumiere's of the 18th century. Paris is multicultural. It can also be a heavy pressure on the creative process, when you grow up and study with that amount of history and culture, you may feel paralysed in front of your white paper.

Personally, my friends are in several creative fields like fashion, art, graphic design, curation, gastronomy, photography and so on. We collaborate naturally on transversal projects. After the attacks in Paris, I think French people wanted to show that France is a strong and combative country by essence and the creative scene is more even challenging now. After the elections suspense, France becomes recently attractive for creatives whereas it was considered a bit asleep, posh or unsupportive. More and more, French expats are moving back or foreigners believe in something here, first of all, because we are privileged to have a kind of freedom of speech. I am sure there will be interesting things to come out of this new period.
How is to work with creative and young people like Les Benjamins or Zoë Le Ber? The creative process must feed the both sides.
Working with creative people is always easier because we 'speak the same language'. The drawings, as well as the references immediately created an dialogue. We discuss spontaneously, almost like if we were doing the design project together while respecting each other roles and sensibility.
Recently you have renovated an apartment for Zoë Le Ber. Can you tell us the story of Hotel Particulier d'Aligre and how you converted this signature building into a 70 square meters living area for Zoë?
The building belonged to Zoe Le Ber's ancestors since the 17th century, after decades Zoe got to keep the last floors. She is mused by the facts that it was the servants area. It gives a charming house under the roof atmosphere, contrasting with the very tradition hotel Particulier. I didn't want to travesties this volume faking it was the noble floor. I emphasised the roof diagonal and the apparent oak beams, as much as the original terracotta floor. It was actually more epic to restore it then replace it, but I always try to keep existing things on site

Do you think that travelling becoming the main thing for today's designers? How are you influenced by travels and the cities you have been to?
I have to travel to the design fairs for my annual shows. This Spring was hectic from Milan Salone, Brussels fair, to New York and finishing in Art Basel. For me, these are the most inspiring times. You have time to think and sketch in transportations and to exchange with your worldwide colleagues that those events gather. My proper holiday trips such as Mexico, Iceland or Marocan desert inspired me also a lot in a more abstract and unconscious form in my design approach to materials and crafts.
Les Benjamns, Arcade Showroom, Istanbul
Looking at your works, I see quite traditional techniques and materials such as ceramics and natural stones. How do you translate these to contemporary world?
I am obsessed with natural materials such as wood, minerals, marble, glass, metal, and traditional technics that can be twisted in a contemporary use or process. For the sustainable reason as much as the fascination, we have to protect these rare hand skills . My favourite part of my job is when I have a discussion with a craft maker and that my projects are transformed with him and gets better. We are just designers but we are humans and we can talk to each other because it is a collective job. I believe more and more people want to have clever and authentic products, that you don't through away after a season because it is not anymore in the trend.

After studying architecture, you got a master degree from Furniture and Interior Design at the Aalto University of Helsinki, Finland. You also studied at l'École du Louvre, specialising in contemporary art advising. How does that combine and reflect your design process?
Being an architect is first to have a vision of what is around you but then you can make building, be a photographer or a filmmaker. I studied furniture in Scandinavia and that s where I understood the relationship with design and craftsmanship, that is now integrated in my interiors practice. I studied art history that should be a theoretical based for every creative. You cannot create contemporary works if you don't know the history behind your line. I integrate a lot the work of art in my interiors and the Art fairs and biennale are a huge source of inspirations and fascinating encountering.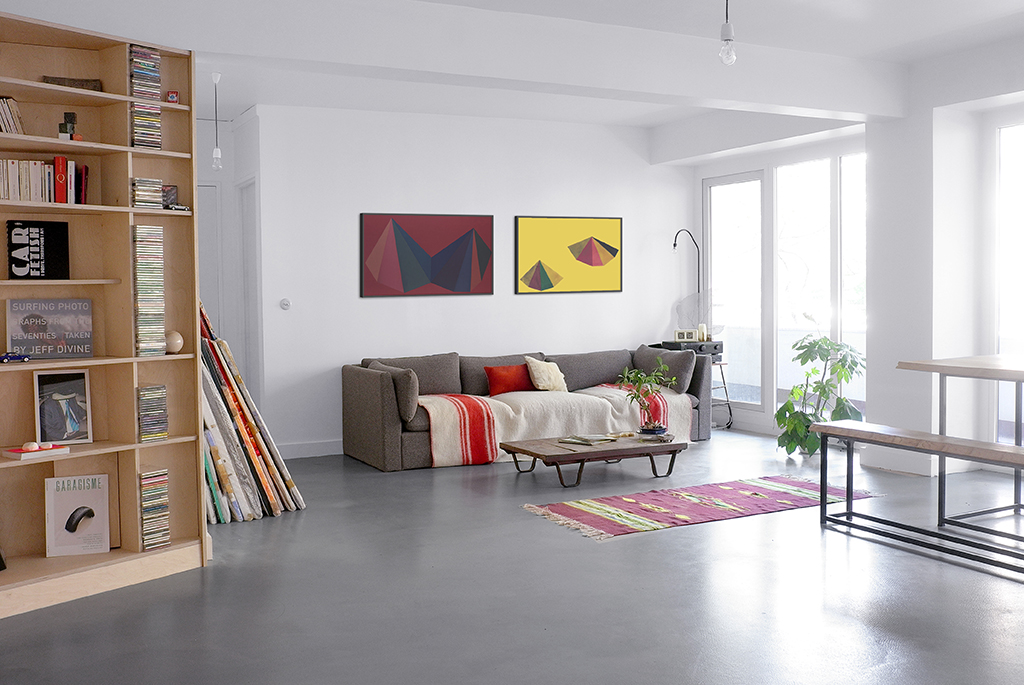 I don't want to label myself as Scandinavian or Mediterranean, minimalistic or primitive or any concepts. It depends every time on the project and the style will emerge of that but it is not my aim at the begging of the projects. If you have a too established style, people come only for this and you end up caricaturing yourself. It is always an encountering with a client, a site and the makers. Once Picasso said "I don't seek I found."

From September, you will be based between Paris and Rome. How your life and work routines will shape starting from this September?
For my personal life, I am moving temporarily to Rome. Italy is one of my favourite places in the world in terms of fashion, gastronomy, history. I go there several times a year and always appreciate it better. I have a large project avenue Georges V, and a contemporary house building site in Paris, so I will be living between both cities. I am planning to develop even more my furniture line there with local makers. Italy is obviously an ideal place to craft design and it will be a new source of inspiration I can't wait to be inspired by the Bomarzo monster gardens, the mystical fountains of the Villa d'Este and all the Romans, Renaissance mysteries.