Can you please tell us how you came together and started the story of TSATSAS? What kind of challenges did you face while advancing your brand to the position it holds today?
We met 15 years ago, in an agency for architecture and design where we were both working. We searched for a long time for a bag that Dimitrios could use for our numerous trips and visits to trade fairs, but we simply couldn't find anything that met our requirements in terms of aesthetics and quality. That was when TSATSAS was born – even though we didn't realize it at the time. It started with us designing a bag for Dimitrios, which his father then crafted in his leather workshop. We spent countless nights and weekends fine-tuning the design, and in the end came up with LUCID, the model we still produce today.
After years of preparation, we launched TSATSAS in 2012 with a collection of five bags. Much of how we approach our work does not in any way accord with the typical methodology of the fashion industry today – and this proves to be a challenge time and again. Due to our background in design and architecture we don't think of a bag as a seasonal trend item, but as a stand-alone product, with its unique characteristics and individual story. We put a lot of time into developing each of the TSATSAS bags: It sometimes takes years from the initial idea to the final product. We don't design products for a particular season, as is customary in the fashion business. Instead, we work a bit like musicians – when the time has come and an album is finished, it's released. And that's what happens with a TSATSAS product, too.
TSATSAS promises clarity and quality. How do you integrate this promise into your design process while considering the fact that these terms are subjective?
Dimitrios: I spent a large part of my childhood and youth in my father's leather workshop. He has been running his own workshop as a maker of fine bags in Offenbach for 40 years now. It was there that I learnt early on what it actually means to commit to quality, how important it is to pay attention to the tiniest of details when creating leather goods, and the crucial impact the quality of materials has on the final product.
Those experiences constitute a knowledge bank that now allows us to think in terms of the highest quality standards and incorporate these into our products. In addition, the privilege of continuing to work with my father's workshop to date means that we can immediately assess all of our design ideas in terms of their feasibility.
For us, the notion of clarity hinges on concentrating on the product and its individual characteristics. In the design process we always aim to distill the initial idea for a piece down to that point where we are able to bring out the character of the TSATSAS bag in question and it is able to stand alone. So, unlike what you might initially think when you hear the word clarity, we don't associate it with a minimalist design but to ridding a product of anything superfluous, including styling and trends, and arriving at the pure product.
One can easily see that your design is not limited with fashion vocabulary. Influences from the fields of product design and even art can be observed. How do you merge the different approaches of these fields to create your design products?
It is a frame of mind that shapes the DNA of the TSATSAS brand and the design of our products, and at the same time it is a personal attitude that we both have. Our entire thinking stems from our personal backgrounds to a large degree – Esther is an architect, while Dimitrios is a product designer – and it therefore isn't confined to individual creative fields. TSATSAS may indeed be a fashion brand, but all of these fields come together in our products, and we are also influenced by the people, works and objects we encounter every day, that surround and impress us, all of which challenge us to engage with them through their presence.
There is no "golden rule" when it comes to how these influences are reflected in our work. Often there are individual aspects that impact our thinking and provide the initial idea for a product: A detail of a facade, the fall of the folds of a piece of textile, a line from a song. Influences can be found waiting around every corner of our lives.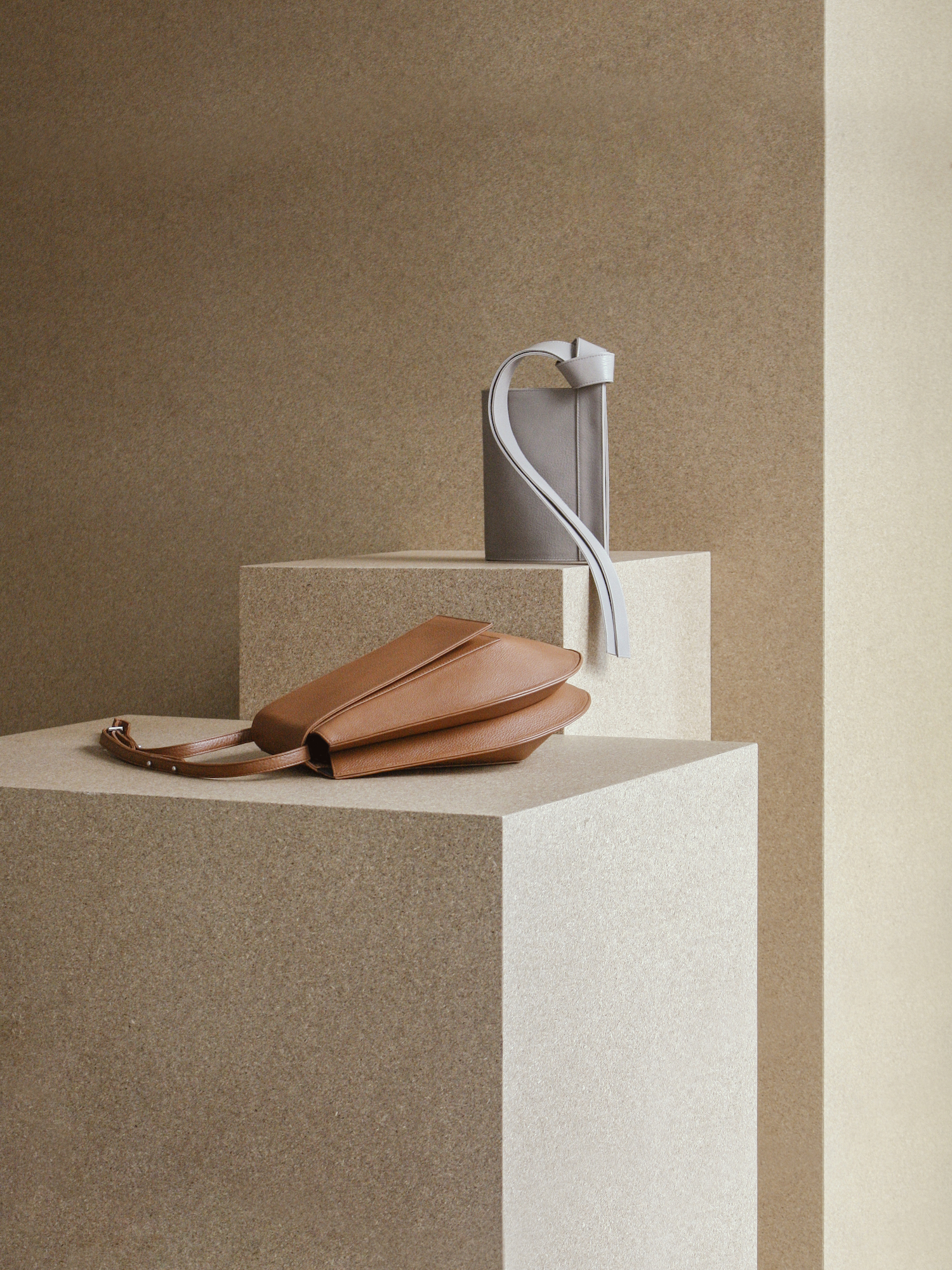 How does working with leather as a material enrich and limit your design process?
As a natural product, leather inherently has different qualities as compared to a synthetically produced material. Its unique look and feel, along with its imperfections, make it a very sensuous but also challenging material to work with. Minute blemishes, arising out of injuries the animal may have incurred or even just from mosquito bites, can render large pieces of leather useless, added to which leather is completely unforgiving when it comes to mistakes in the production process – a pinprick in the wrong place will leave indelible marks on the material. Not to forget that the high price of high-grade natural leather calls for it to be treated very carefully and with a great deal of respect.
In our designs we seek to respond to the qualities leather has as a material, and to allow these to find expression. Take for example the FLUKE bag: When it comes to the fall of the folds, we have allowed the leather to find its own way, thereby creating the characteristic shape of the bag.
The relatively heavy weight of leather does make it a bit more difficult to work with. It can pose a problem when making larger bags. In addition, the size of the hides also limits you, depending on which type of leather you use. But it is precisely these limitations that constitute the challenge of working with this material, and it's up to the designer to find the right solutions to these problems.
"Handcrafted in Germany" is a very strong differentiation point for TSATSAS, in my eyes. Can you please share your opinion on sustainability and other ethical aspects in the design world?Leather working has steadily decreased in Germany in the past decades. However, there are still highly discerning and outstanding fine bag makers in Germany, especially in the so-called "leather city" of Offenbach, where all of the TSATSAS products are manufactured. There would be no good reason for us to move our production abroad, especially if this was done on the basis of a lower manufacturing price. We don't see the deliberate exploitation of a low level of wages in other countries in our favor as the ethically correct thing to do – letting craft traditions in our own country die out in order to arrive at a cheaper result elsewhere.
The notion of sustainability is rather complex, it goes hand in hand with a great deal of responsibility. In recent years, the term has definitely been over-used, and mostly for marketing purposes – but it is rare that companies look at all facets of a product. We think design should play as big a part in making a product sustainable as the material used – in our view, treating a vegetable-tanned leather with chemicals after tanning it in order to give it a bright, trendy color does not have a lot to do with sustainability. And neither do products that follow seasonal trends, which quickly reach their aesthetic best-before date.
From the very start we have felt that the TSATSAS collection must be independent of seasons, and we have always designed our bags with the thought in mind that our products should have a functional and aesthetic raison d'être for as long a time as possible.
You designed a special product with the name KAGE (means shadow in Japanese) for Wallpaper Handmade. How did this design idea evolve into a sophisticated design product?
In 2012, Wallpaper Magazine approached us with the idea of designing a trolley suitcase for their "Wallpaper Handmade" project that could fulfill the demands of modern travel and had the contemporary elegance of a TSATSAS product.
Working on the design we realized that the requirements we have when it comes to traveling today are purely practical, we want things to be optimized in terms of time, weight and material. But the way we travel now is devoid of poetry, it lacks the touch of magic and luxury that travel used to have. Nowadays aesthetics has had to yield to convenience and efficiency when it comes to travel.
In KAGE we tried to invoke the spirit of old-fashioned travel and simultaneously meet the contemporary functional demands of a trolley case in a single design. The result is a modern, entirely hand-made product – which afforded us creative freedom down to the very last detail.
Technology is challenging designers from various perspectives such as material, production techniques and communication. How do you react to this challenge for the future success of TSATSAS?
We follow new technologies very closely and with excitement. The new opportunities in terms of communication have completely changed all of our lives in recent years. They enable us to interact with people across the globe, to find like-minded communities and to communicate the aura of the TSATSAS brand to new markets both visually and in terms of content. These new channels offer immense added value for young brands – we use them consistently and really appreciate them.
In terms of material, there have increasingly been efforts to create leather synthetically and "grow" it in laboratories. We follow these developments closely, but it is still too early to see which characteristics and what quality this new material will have. It remains to be seen whether it will be able to replace leather as a material one day. The leather we use is a "waste product" of the meat industry, and given that meat consumption is falling continuously we may well face the challenge of finding alternative materials in the future.
Despite all the technical achievements of the day, producing high quality bags still requires an enormous amount of effort in terms of manual labor and crafts expertise. There have certainly been new technologies in the recent years that have impacted the production of leather goods, but without exception these have only replaced individual, small processes in the production chain. With a view to the product, they have created little added value – the positive impact they have had is an increase in cost efficiency above all else. These new processes are not relevant enough for us to introduce them into our production at the moment.
We also feel that individual ability, personal dedication and the blood, sweat and tears of a craftsperson have an effect on the product and imbue it with its "soul". We wouldn't want that to be missing from our work.
Can you please tell us your upcoming projects?
In December we will be celebrating TSATSAS 5th anniversary with friends and clients, which will coincide with the publication of our "Constant Companions" project, showcasing the way 24 people see their TSATSAS products. It has turned into a personal project that has become very near and dear to us. In addition we are currently working on some very exciting collaborations; including with two artists, a jewelry designer and one of the most renowned contemporary architects.